Our Golden Ticket award from CITB for Apprentice Employer of the Year!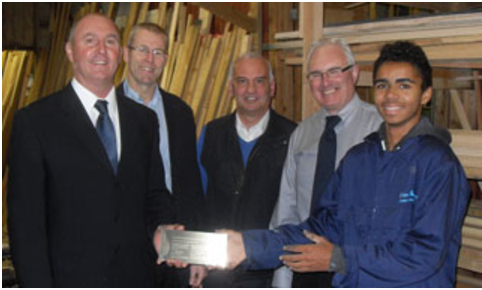 John Weaver Contractors are celebrating the news of being nominated and getting through to the final stages of CITB's national award for Apprentice Employer of the year.
JWC were awarded the 'Golden Ticket' from Peter Carey and David Owen from CITB, which is an award in itself. JWC are now invited to the CITB awards ceremony in London where the final winner will be announced.
Out of 1000's of companies nationally, JWC have made it to the final 26, and are only 1 of 3 from Wales. The award is for employers who have demonstrated their commitment to recruiting and training apprentices. JWC had to meet very high standards and match strict criteria to be up for this award.
This is a great honour for everyone involved, Managing Director, Ian Hawkins, Training Officer, John Jones and apprentice Kirk McNally, were very pleased to have been awarded the golden ticket and will be looking forward to the awards ceremony on the 19th November.
Back to News Page