Restoring the Great Gates of Hay Castle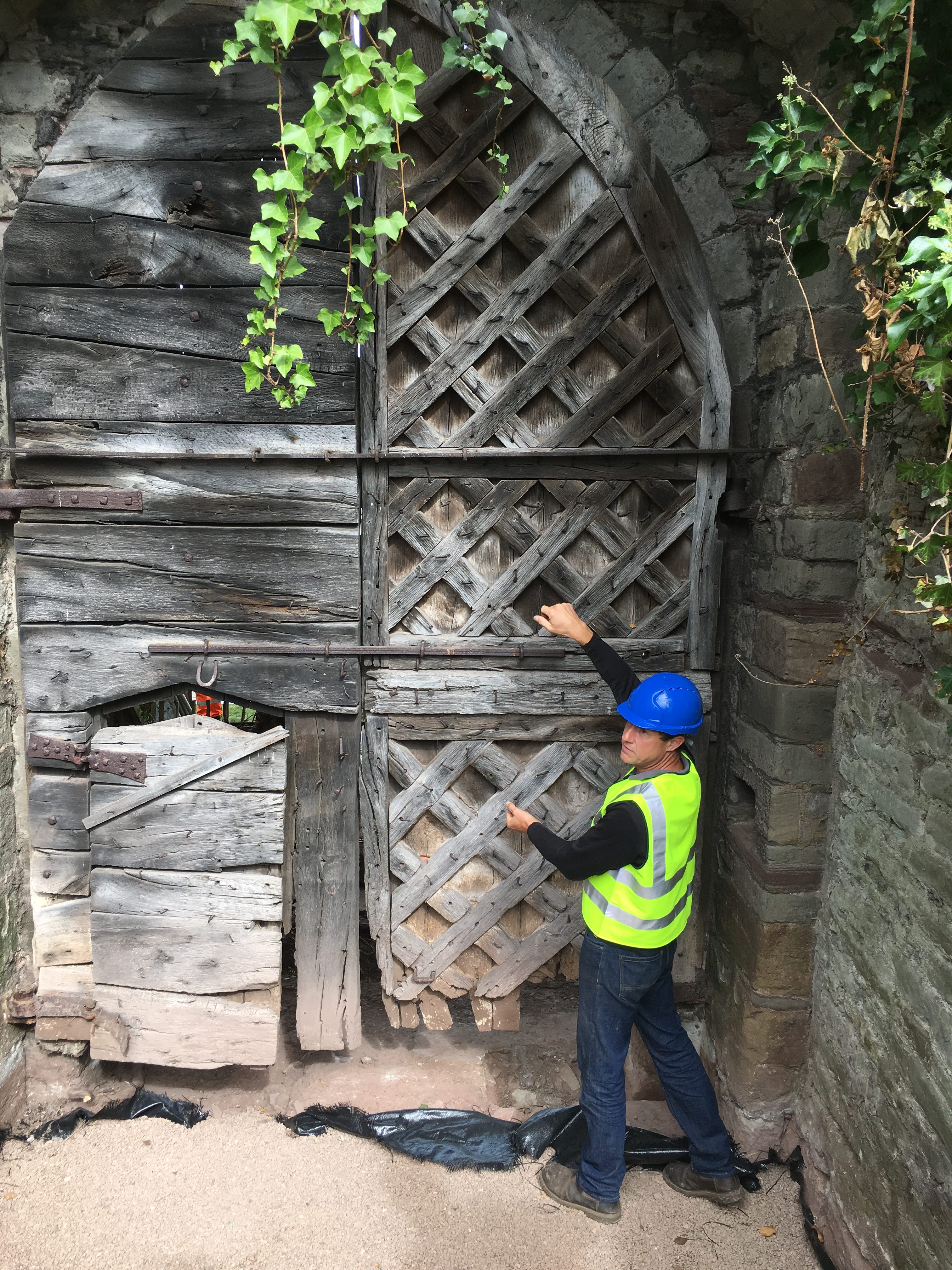 The gates of Hay Castle are being removed this week (September 14th) for the first time in almost 400 years, as part of a Heritage Lottery Fund-backed project to rescue the historic border castle and open it up to the public.
The massive wooden gates, which are currently fenced off and hidden behind a tangle of ivy and scaffolding, are believed to date back as far as the founding of the castle by the Normans in the 12th Century.  They are now central to Hay Castle Trust's plans to reopen the castle in 2020 as a centre for arts and education, and the jewel in the crown of the world-famous book town of Hay-on-Wye.
Nancy Lavin Albert, from Hay Castle Trust, the charity leading the conservation project, says: "We were determined from the start to restore and reinstate these wonderful gates, which have guarded Hay Castle's walls for the best part of a thousand years. Once they have been repaired they will be reinstated as part of an important new thoroughfare between the castle and the town. I just love the idea that the gates which were once firmly shut to keep people out will, in the future, be opened wide to welcome visitors into the castle."
The delicate task of freeing the gates from their rusted hinges will be carried out by local specialists John Nethercott & Co., in collaboration with Cadw and John Weavers Conservation.  The gates and hinges will be conserved at John Nethercott & Co.'s Presteigne workshops, while the gatehouse stonework will be repaired, and the ground excavated to its original medieval level in preparation for the castle's opening to the public in 2020. This vital work has been funded by the Heritage Lottery Fund with match funding provided by the Pilgrim Trust, the Friends of Hay Castle and the Aurelius Trust.
The gates are believed to be among the oldest in the country still hanging in their original gateway, although their precise age has so far eluded specialists.  Carbon dating and dendrochronology of timber samples has produced dates between the 14th and 17th centuries reflecting the different phases of the castle's development.  Mysteriously, a sample of wood removed from a slot next to the gate was dated back to the 10th Century, almost 200 years before the gatehouse was built!
John Weaver Conservation started work at Hay Castle in June of this year, and work is due to be completed by April 2020.
Back to News Page