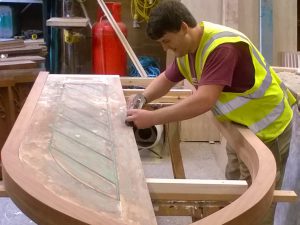 At John Weaver we really care about the buildings in our charge. That means we care about the structure, we care about the services and amenities, and we care about the people who'll eventually use the building for their home, work or leisure.
As such we have bolstered our service offering with something truly unique: we have an in-house bespoke joinery department based in our headquarters in Swansea, with extensive experience producing one-off pieces of beautiful furniture that match perfectly the style of the buildings they're used in, in addition to all aspects of joinery for commercial concerns.
We have recently produced bespoke pieces for the Arch Diocese of Swansea, City and County of Swansea, Cardiff University and the Glynn Vivian Art Gallery in Swansea. Our joiners work using wholly traditional methods and can be highly flexible in their approach to matching our clients' needs and aspirations.