Work begins on new £8m ambulance station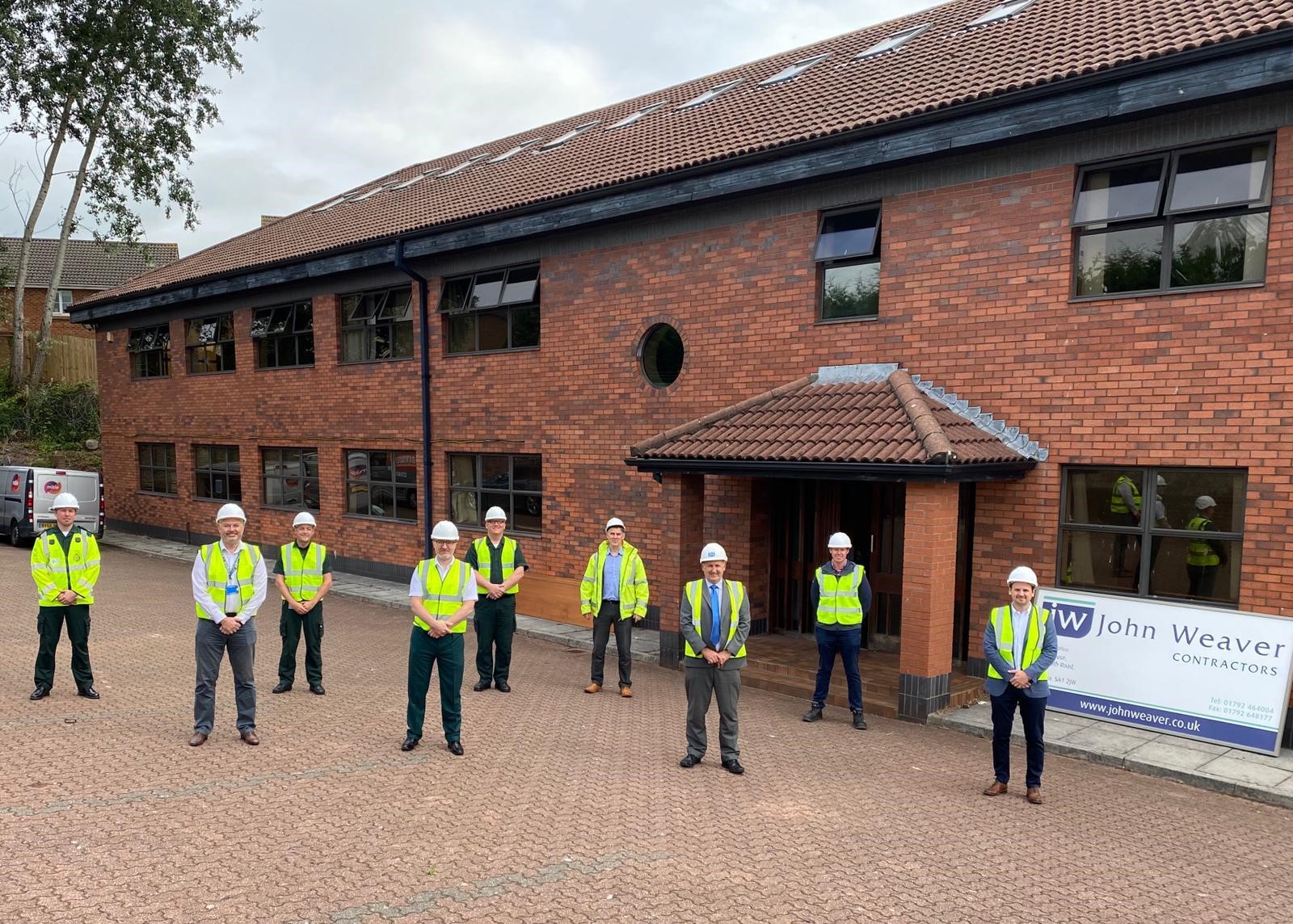 We are delighted to have started work for the Welsh Ambulance Service Station in Cardiff.  Read on for the full article:
WORK to deliver a state-of-the-art new ambulance station in Cardiff began
The £8m Welsh Government-funded project at Pontprennau's Avenue Industrial Estate was originally announced in January this year by the Minister for Health and Social Services Vaughan Gething and will replace the ageing Blackweir station.
Construction will see the remodelling of the old Merton House site over a year into a modern base for emergency and non-emergency crews, plus a Make Ready Depot with dedicated Fleet Assistants who will clean and restock ambulances between jobs – speeding up turnaround time and improving service to the public.
There will also be provision for the city's Cycle Response Team.
Speaking at the site today, the Welsh Ambulance Service's Chief Executive, Jason Killens, said: "We are thrilled to see the start of construction at Merton House, and again express our thanks to Welsh Government for backing this investment.
"It will help us drive improvements in response time and provide a modern fit-for-purpose base for staff.
"The Make Ready Depot will be a huge step forward and not only allow our crews more time in the community but also improve infection control."
Richard Davies, the Trust's Assistant Director of Capital and Estates, who leads the project team said: "I am pleased to see this project progressing to its final stage of re-development.
"It has been a long process, but will provide a modern working environment for staff and an improved service to the capital."
The site is committed to following Cardiff's Healthy Travel Charter which aims to combat sedentary lifestyles and encourage eco-friendly travel options and will include safe cycle storage and electric vehicle charging points.
Mark Cadman, the Trust's Area Operations Manager for Cardiff and Vale, said: "We look forward to watching the site develop and become a 21st century ambulance station to be proud of.
"The enhanced facilities will bring benefits for all operational colleagues in the area as well as space for training and development.
"I am particularly happy that the Healthy Travel Charter has been central to the station's design."
Health Minister Vaughan Gething said: "I'm pleased to see work begin on the new base which will help the Welsh Ambulance Service improve ambulance turnaround times to improve the service they provide.
"Our hard-working ambulance staff work tirelessly to meet the growing demands on their service and that is the reason we need to invest and  transform services to create a sustainable health and social care for the future."
Chris Turley, Executive Director of Finance and Corporate Resources for Welsh Ambulance said: "After several years of planning, it is a proud moment to be here today with our construction partners ready to start work.
"We look forward to summer 2021 and seeing the completed project that will no doubt be a benchmark for the modern-day ambulance station.
"We also wish to thank the hard-working project team who have worked tirelessly to bring this vision to life."
The tender for construction was secured by Swansea-based John Weaver Contractors who have a strong track record of large-scale refurbishments and new builds, including the Macmillan Cancer Support's Y Bwthwyn centre in Llantrisant and the artificial intelligence laboratory at Swansea University.
Terry Edwards, Managing Director of John Weaver Contractors, said: "We are pleased to begin work on this prestigious project and look forward to delivering a first-class home for our ambulance staff here in Cardiff."
Finance for the project is being handled using the Welsh Government's new Project Bank Account (PBA) scheme – one of the first projects to be run in this way.
PBAs are secure accounts that act solely as a receptacle for transferring funds from the client to the lead contractor and supply-chain.
Blackweir station's Fleet Workshop will remain on the old site for the time being whilst a separate business case is developed.
Back to News Page